| | | |
| --- | --- | --- |
| | | Today's biological science headlines from the sources selected by our team: |
For bats and dolphins, hearing gene prestin adapted for echolocation
(Molecular Biology and Evolution (Oxford University Press)) In a new study published in the advanced online edition of Molecular Biology and Evolution, Peng Shi, et al., have shown that prestin has also independently evolved to play a critical role in the ultrasonic hearing range of animal sonar, or echolocation, to help dolphins navigate through murky waters or bats find food in the dark.
'Fracking' in the dark: Biological fallout of shale-gas production still largely unknown
(Princeton University) Eight conservation biologists from various organizations and institutions, including Princeton University, found that shale-gas extraction in the United States has vastly outpaced scientists' understanding of the industry's environmental impact. With shale-gas production projected to surge during the next 30 years, determining and minimizing the industry's effects on nature and wildlife must become a top priority for scientists, industry and policymakers, the researchers said.
Scientists warn time to stop drilling in the dark
(Simon Fraser University) The co-authors of a new study, including two Simon Fraser University research associates, cite new reasons why scientists, industry representatives and policymakers must collaborate closely on minimizing damage to the natural world from shale gas development. Viorel Popescu and Maureen Ryan, David H. Smith Conservation Research Fellows in SFU's Biological Sciences department, are among eight international co-authors of the newly published research in Frontiers in Ecology and the Environment.
Exploring 3-D printing to make organs for transplants
Printing whole new organs for transplants sounds like something out of a sci-fi movie, but the real-life budding technology could one day make actual kidneys, livers, hearts and other organs for patients who desperately need them. In the ACS journal Langmuir, scientists are reporting new understanding about the dynamics of 3-D bioprinting that takes them a step closer to realizing their goal of making working tissues and organs on-demand.
Decades-old amber collection offers new views of a lost world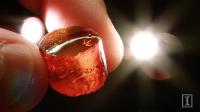 Sir David Attenborough narrates and appears in a video about the digital curation of a 20-million-year-old amber collection at the Illinois Natural History Survey at Illinois. Scientists are searching through a massive collection of 20-million-year-old amber found in the Dominican Republic more than 50 years ago, and the effort is yielding fresh insights into ancient tropical insects and the world they inhabited.
Researcher using next-generation sequencing to rapidly identify pathogens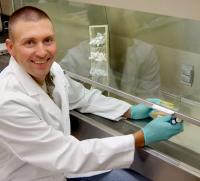 Benjamin Hause has joined the Kansas State Veterinary Diagnostic Laboratory as a research assistant professor. Hause uses next-generation sequencing and other new methods to rapidly identify pathogens. He calls himself the bug hunter, but the target of his work consists of viruses that can only be found and identified with special methods and instruments. Benjamin Hause, an assistant research professor at the Kansas State Veterinary Diagnostic Laboratory at Kansas State University, recently published an article about one of his discoveries, porcine enterovirus G, which is an important find in the United States.
No walk in the park for S. Africa's embattled game rangers
The game ranger with a rifle slung across his shoulders follows a bush trail through South Africa's famed Kruger national park, alert to the slightest sound or movement.
Invasive lionfish likely safe to eat after all
Scientists have learned that recent fears of invasive lionfish causing fish poisoning may be unfounded. If so, current efforts to control lionfish by fishing derbies and targeted fisheries may remain the best way to control the invasion. And there's a simple way to know for sure whether a lionfish is toxic: test it after it's been cooked.
Study of bigeye tuna in Northwest Atlantic uses new tracking methods
A first-of-its-kind study of bigeye tuna movements in the northwestern Atlantic Ocean led by Molly Lutcavage, director of the Large Pelagics Research Center at the University of Massachusetts Amherst, found among other things that these fish cover a wide geographical range with pronounced north-south movements from Georges Bank to the Brazilian shelf, and they favor a high-use area off Cape Hatteras southwest of Bermuda for foraging.
powered by zFeeder


The top 5 resources


selected by our team


for biological science
news coverage: