| | | |
| --- | --- | --- |
| | | Today's biological science headlines from the sources selected by our team: |
Immune cells to be tested on the International Space Station
The human body is fine-tuned to Earth's gravity. Scientists are now conducting an experiment on the International Space Station (ISS) to study whether this also applies to human cells. We know the effect of gravity on muscles, bones and joints inside out; it has been studied extensively in medicine for centuries. For a long time, however, exactly how gravity affects the cells remained a mystery.
Researchers rethink 'natural' habitat for wildlife
Protecting wildlife while feeding a world population predicted to reach nine billion by 2050 will require a holistic approach to conservation that considers human-altered landscapes such as farmland, according to researchers. A new study finds that a long-accepted theory used to estimate extinction rates, predict ecological risk and make conservation policy recommendations is overly pessimistic. The researchers point to an alternative framework that promises a more effective way of accounting for human-altered landscapes and assessing ecological risks.
MRI, on a molecular scale: System could one day peer into the atomic structure of individual molecules
A magnetic resonance imaging (MRI) system that can produce nano-scale images, and may one day allow researchers to peer into the atomic structure of individual molecules, has been developed by researchers. For decades, scientists have used techniques like X-ray crystallography and nuclear magnetic resonance imaging (NMR) to gain invaluable insight into the atomic structure of molecules, but such efforts have long been hampered by the fact that they demand large quantities of a specific molecule and often in ordered and crystalized form to be effective -- making it all but impossible to peer into the structure of most molecules.
Study casts doubt on climate benefit of biofuels from corn residue
(University of Nebraska-Lincoln) Biofuels made from corn stover -- stalks, leaves and cobs that remain after harvest -- appear to emit more carbon dioxide over their life cycle than federal standards allow, according to research led by Adam Liska, assistant professor of biological engineering at the University of Nebraska-Lincoln.
Dana-Farber researchers uncover link between Down syndrome and leukemia
(Dana-Farber Cancer Institute) A team of researchers led by Dana-Farber Cancer Institute investigators has uncovered a connection between people with Down syndrome and having a heightened risk of developing acute lymphoblastic leukemia during childhood.
Study of gut microbes, antibiotics: Clues to improving immunity in premature infants
(Children's Hospital of Philadelphia) Mothers give a newborn baby a gift of germs -- germs that help to kick-start the infant's immune system. But antibiotics, used to fight bacterial infection, may paradoxically interrupt a newborn's own immune responses, leaving already-vulnerable premature babies more susceptible to dangerous pathogens
In sex-reversed cave insects, females have the penises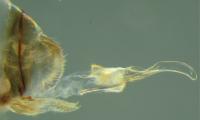 This shows the female penis of N. aurora. Researchers reporting in the Cell Press journal Current Biology on April 17 have discovered little-known cave insects with rather novel sex lives. The Brazilian insects, which represent four distinct but related species in the genus Neotrogla, are the first example of an animal with sex-reversed genitalia.
Some immune cells defend only 1 organ
Scientists have uncovered a new way the immune system may fight cancers and viral infections. The finding could aid efforts to use immune cells to treat illness.
At the origin of cell division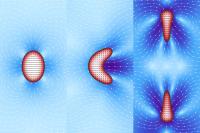 This shows active droplets. Droplets of filamentous material enclosed in a lipid membrane: these are the models of a "simplified" cell used by the SISSA physicists Luca Giomi and Antonio DeSimone, who simulated the spontaneous emergence of cell motility and division - that is, features of living material - in inanimate "objects". The research is one of the cover stories of the April 10th online issue of the journal Physical Review Letters.
Bulletproof nuclei? Stem cells exhibit unusual absorption property
Stem cells – the body's master cells – demonstrate a bizarre property never before seen at a cellular level, according to a study published today from scientists at the University of Cambridge. The property – known as auxeticity – is one which may have application as wide-ranging as soundproofing, super-absorbent sponges and bulletproof vests.
Computational method dramatically speeds up estimates of gene expression
With gene expression analysis growing in importance for both basic researchers and medical practitioners, researchers at Carnegie Mellon University and the University of Maryland have developed a new computational method that dramatically speeds up estimates of gene activity from RNA sequencing (RNA-seq) data.
Free the seed: OSSI nurtures growing plants without patent barriers
(Phys.org) —Members of the Open Source Seed Initiative this week held a rally and seed giveaway event. The group is concerned over restricting access to seeds through patents. They are stirring up public awareness over their mission to model a new crop system of seed-sharing in the spirit of open source software. On Thursday the OSSI group gathered at the University of Wisconsin-Madison, to give away a set of seeds that can be used by anyone. The seeds are unrestricted by patents or intellectual property barriers. They released 29 new varieties of crops under an "open source pledge" for farmers, gardeners and plant breeders. The new varieties involved broccoli, celery, kale, quinoa and other vegetables and grains released under their novel Pledge, to be printed on all OSSI seed packets.
powered by zFeeder


The top 5 resources


selected by our team


for biological science
news coverage: