| | | |
| --- | --- | --- |
| | | Today's biological science headlines from the sources selected by our team: |
Experimental Ebola vaccine appears safe, prompts immune response
An experimental vaccine to prevent Ebola virus disease was well-tolerated and produced immune system responses in all 20 healthy adults who received it in a Phase 1 clinical trial.
Unbelievable underworld and its impact on us all
A new study has pulled together research into the most diverse place on earth to demonstrate how the organisms below-ground could hold the key to understanding how the worlds ecosystems function and how they are responding to climate change.
Dogs hear our words and how we say them
When people hear another person talking to them, they respond not only to what is being said -- those consonants and vowels strung together into words and sentences -- but also to other features of that speech -- the emotional tone and the speaker's gender, for instance. Now, a report provides some of the first evidence of how dogs also differentiate and process those various components of human speech.
Single-atom gold catalysts may offer path to low-cost production of fuel and chemicals
(Tufts University) New catalysts designed and investigated by Tufts engineering researchers and collaborators have potential to greatly reduce processing costs in future fuels like hydrogen. The catalysts are composed of a unique structure of single gold atoms bound by oxygen to sodium or potassium atoms, supported on non-reactive silica materials. They demonstrate comparable activity and stability with catalysts comprising precious metal nanoparticles on rare earth and other reducible oxide supports when used in producing highly purified hydrogen.
Another human footprint in the ocean
(University of Hawaii at Manoa) Human-induced changes to Earth's carbon cycle -- for example, rising atmospheric carbon dioxide and ocean acidification -- have been observed for decades. However, a study published this week in Science showed human activities, in particular industrial and agricultural processes, have also had significant impacts on the upper ocean nitrogen cycle.
Stroke damage mechanism identified
(University of Leeds) Researchers have discovered a mechanism linked to the brain damage often suffered by stroke victims -- and are now searching for drugs to block it.
Two studies identify a detectable, pre-cancerous state in the blood
Researchers from the Broad Institute of MIT and Harvard, Harvard Medical School, and Harvard-affiliated hospitals have uncovered an easily detectable, "pre-malignant" state in the blood that significantly increases the likelihood that an individual will go on to develop blood cancers such as leukemia, lymphoma, or myelodysplastic syndrome. The discovery, which was made independently by two research teams affiliated with the Broad and partner institutions, opens new avenues for research aimed at early detection and prevention of blood cancer. Findings from both teams appear this week in the New England Journal of Medicine.
ASU, IBM move ultrafast, low-cost DNA sequencing technology a step closer to reality
A team of scientists from Arizona State University's Biodesign Institute and IBM's T.J. Watson Research Center have developed a prototype DNA reader that could make whole genome profiling an everyday practice in medicine.
Lionfish analysis reveals most vulnerable prey as invasion continues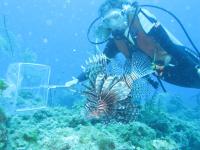 Stephanie Green studies lionfish in The Bahamas. If you live in lionfish territory in the Atlantic Ocean, the last thing you want to be is a small fish with a long, skinny body, resting by yourself at night, near the bottom of the seafloor.
Sheep flock to Eiffel Tower as French farmers cry wolf
French farmers flocked to the Eiffel Tower on Thursday, sheep in tow, to express their frustration over increasing attacks by wolves which some say have been "overprotected" by the government.
Genomes of malaria-carrying mosquitoes sequenced
Nora Besansky, O'Hara Professor of Biological Sciences at the University of Notre Dame and a member of the University's Eck Institute for Global Health, has led an international team of scientists in sequencing the genomes of 16 Anopheles mosquito species from around the world.
Bitter food but good medicine from cucumber genetics
High-tech genomics and traditional Chinese medicine come together as researchers identify the genes responsible for the intense bitter taste of wild cucumbers. Taming this bitterness made cucumber, pumpkin and their relatives into popular foods, but the same compounds also have potential to treat cancer and diabetes.
powered by zFeeder


The top 5 resources


selected by our team


for biological science
news coverage: