| | | |
| --- | --- | --- |
| | | Today's biological science headlines from the sources selected by our team: |
Deer proliferation disrupts a forest's natural growth
Researchers have discovered that a burgeoning deer population forever alters the progression of a forest's natural future by creating environmental havoc in the soil and disrupting the soil's natural seed banks.
New class of antibiotics discovered by chemists
A new class of antibiotics to fight bacteria such as methicillin-resistant Staphylococcus aureus and other drug-resistant bacteria that threaten public health has been discovered by a team of chemists. The new class, called oxadiazoles, was discovered in silico (by computer) screening and has shown promise in the treatment of MRSA in mouse models of infection. MRSA has become a global public-health problem since the 1960s because of its resistance to antibiotics. In the United States alone, 278,000 people are hospitalized and 19,000 die each year from infections caused by MRSA. Only three drugs currently are effective treatments, and resistance to each of those drugs already exists.
Personalized treatment prolongs the life of lung cancer patients
Mexican scientists have increased survival rates for patients diagnosed with lunch cancer in metastatic stage (when the disease has spread to different parts of the body) from a rate of nine months of survival to 30 with personalized treatments. Tumor tissue samples were used to extract DNA in order to analyze mutations in the neoplasia (abnormal mass of tissue). Based on the mutations, personalized treatments were provided to the study participants.
Research on 3D scaffolds sets new bar in lung regeneration
(University of Vermont) Innovative research efforts in the field of tissue regeneration, including pioneering discoveries by the University of Vermont's Daniel Weiss, M.D., Ph.D., and colleagues, hold promise for the estimated 12.7 million people with chronic obstructive pulmonary disorder, the third leading cause of death in the US.
UT Arlington undergrad honored for research on antibiotic resistant infection
(University of Texas at Arlington) One of 60 students selected in the Council on Undergraduate Research's Posters on the Hill competition is looking for a way to stop a dangerous, hospital-acquired disease. Emmanuel Fordjour started working in the lab of a National Institutes of Health-funded researcher when he was just a sophomore.
Notre Dame chemists discover new class of antibiotics
(University of Notre Dame) A team of University of Notre Dame researchers led by Mayland Chang and Shahriar Mobashery have discovered a new class of antibiotics to fight bacteria such as methicillin-resistant Staphylococcus aureus and other drug-resistant bacteria that threaten public health.
Warmer temperatures push malaria to higher elevations
Researchers have debated for more than two decades the likely impacts, if any, of global warming on the worldwide incidence of malaria, a mosquito-borne disease that infects more than 300 million people each year.
Enzyme controls transport of genomic building blocks
Our DNA and its architecture are duplicated every time our cells divide. Histone proteins are key building blocks of this architecture and contain crucial information that regulates our genes. Danish researchers show how an enzyme controls reliable and high-speed delivery of histones to DNA copying hubs in our cells. This shuttling mechanism is crucial to maintain normal function of our genes and prevent disease. The results are published in the journal Nature Communications.
Study provides new information about the sea turtle 'lost years'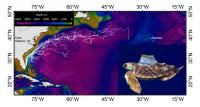 This shows the North Atlantic tracking routes of 17 juvenile loggerhead sea turtles. A new study satellite tracked 17 young loggerhead turtles in the Atlantic Ocean to better understand sea turtle nursery grounds and early habitat use during the 'lost years.' The study, conducted by a collaborative research team, including scientists from the University of Miami (UM) Rosenstiel School of Marine and Atmospheric Science, was the first long-term satellite tracking study of young turtles at sea.
Legal ivory auction breaks French price records
A French auction of legal ivory broke records on Saturday, with prices reaching up to 1,000 euros a kilogramme ($630 a pound), according to Alexander Debussy, associate director of auction house Cannes Encheres.
Japan to halve tuna catch in Northern Pacific
Japan plans to slash by half the amount of juvenile bluefin tuna taken from the Northern Pacific starting in 2015, compared to the 2002-2004 average, reports said Sunday.
Yellowstone: Bison slaughters done for the season
Yellowstone National Park administrators say shipments of wild bison to slaughter are done for the winter after almost 600 animals were removed in an effort to shrink their numbers.
powered by zFeeder


The top 5 resources


selected by our team


for biological science
news coverage: