| | | |
| --- | --- | --- |
| | | Today's biological science headlines from the sources selected by our team: |
Rapid plankton growth in ocean seen as sign of carbon dioxide loading
A microscopic marine alga is thriving in the North Atlantic to an extent that defies scientific predictions, suggesting swift environmental change as a result of increased carbon dioxide in the ocean.
Surprise: One organism responsible for nitrification instead of two
It could never be found until recently, in a fish tank a few floors below a university microbiology department: one single organism able to perform the complete process of nitrification. Microbiologists used to think that two distinct groups of bacteria were responsible for the stepwise oxidation of ammonia to nitrate via nitrite. This discovery has implications for climate research and wastewater treatment, say the scientists involved in the study.
Using sphere packing models to explain the structure of forests
Explaining the complex structure of tropical forests is one of the great challenges in ecology. An issue of special interest is the distribution of different sizes of trees, something which is of particular relevance for biomass estimates. A team of modellers has now developed a new method that can be used to explain the tree size distribution in natural forests. To do so, the scientists use principles from stochastic geometry. Using this approach, it is possible to assess the structure of natural forests across the world more quickly, and produce more accurate biomass estimates.
Synapse discovery could lead to new treatments for Alzheimer's disease
(University of New South Wales) A team of researchers led by UNSW Australia scientists has discovered how connections between brain cells are destroyed in the early stages of Alzheimer's disease -- work that opens up a new avenue for research on possible treatments for the degenerative brain condition.
A common mechanism for human and bird sound production
(University of Southern Denmark) When birds and humans sing it sounds completely different, but now new research reported in the journal Nature Communication shows that the very same physical mechanisms are at play when a bird sings and a human speaks.
Increased carbon dioxide enhances plankton growth, opposite of what was expected
(Bigelow Laboratory for Ocean Sciences) Coccolithophores have been increasing in relative abundance in the North Atlantic over the last 45 years, as carbon input into ocean waters has increased. Their relative abundance has increased 10 times -- an order of magnitude -- during this sampling period. This finding was diametrically opposed to what scientists had expected since coccolithophores make their plates out of calcium carbonate, which is becoming more difficult as the ocean becomes more acidic and pH is reduced.
Stem cell study paves the way for patient therapies
Stem cells that have been specifically developed for use as clinical therapies are fit for use in patients, an independent study of their genetic make-up suggests.
Rapid plankton growth in ocean seen as sign of carbon dioxide loading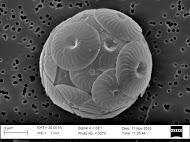 This is a scanning electron microscope image of a coccolithophore, which can measure from 5 to 15 microns across, less than a fifth the width of a human hair. A microscopic marine alga is thriving in the North Atlantic to an extent that defies scientific predictions, suggesting swift environmental change as a result of increased carbon dioxide in the ocean, a study led a by Johns Hopkins University scientist has found.
New gene map reveals cancer's Achilles heel
Scientists have mapped out the genes that keep our cells alive, creating a long-awaited foothold for understanding how our genome works and which genes are crucial in disease like cancer.
Lettuce quality is improved by modifying its growing conditions
A researcher in the UPV/EHU''s department of Plant Biology and Ecology has confirmed that it is possible to improve the nutraceutical quality of the lettuce by modifying its growing conditions but not at the expense of productivity. The FisioClimaCO2 research group, to which the researcher Usue Pérez-López belongs, has applied various stress conditions to the plants and has verified the changes that take place in their composition as a result.
Study shows evolution does not always mean more diversification
(Phys.org)—A small team of researchers with members from the U.S. and Switzerland has found an example of a fish that did not always benefit in the end from an evolutionary change. In their paper published in the journal Science, the team describes their study of cichlid fish species in Lake Victoria and other places, and the changes that led to their downfall in one ecosystem. Geerat Vermeij with the University of California offers a Perspectives piece on the work done by the group in the same journal issue.
Neurons in crows' brains signal which pictures belong together
During learning, cells in the crow brain acquire discharge patterns that associate pictures with their meaning.
powered by zFeeder


The top 5 resources


selected by our team


for biological science
news coverage: