| | | |
| --- | --- | --- |
| | | Today's biological science headlines from the sources selected by our team: |
New species found in the deepest trench on Earth
Researchers have returned from the first detailed study of the Mariana Trench aboard Schmidt Ocean Institute's research vessel Falkor. The expedition set many new records, including the deepest rock samples ever collected and the discovery of new fish species at the greatest depths ever recorded.
New technique reveals immune cell motion
Neutrophils, cells recruited by the immune system to fight infection, need to move through a great variety of tissues. New research shows how neutrophils move through confined spaces in the body. A new system can mimic tissues of different densities and stiffness, enabling improved development and testing of drugs.
Europe shows that humans and large predators can share the same landscape
The recovery of large carnivores in Europe is a great success for nature conservation. At one third of mainland Europe, at least one species of large carnivore is present, according to a new article. It is an excellent example that humans and carnivores can share the same landscape, say researchers.
Alaska fish adjust to climate change by following the food
(NOAA Fisheries West Coast Region) Not all species may suffer from climate change. A new analysis shows that Dolly Varden, a species of char common in southeast Alaska, adjust their migrations so they can keep feasting on a key food source -- salmon eggs -- even as shifts in climate altered the timing of salmon spawning.
Atom-thick CCD could capture images
(Rice University) A synthetic two-dimensional material known as CIS could be the basis for ultimately thin imaging devices and optical sensors.
Early exposure to antidepressants affects adult anxiety and serotonin transmission
(University of California - Los Angeles Health Sciences) Now, a UCLA team has studied early developmental exposure to two different antidepressants, Prozac and Lexapro, in a mouse model that mimics human third trimester medication exposure. They found that, although these serotonin-selective reuptake inhibiting antidepressants were thought to work the same way, they did not produce the same long-term changes in anxiety behavior in the adult mice.
New breast cancer classification based on epigenetics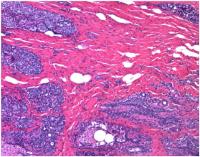 This is an image of a breast tumor identified as Epi-Luminal B of poor prognosis. Breast cancer is the most common in women. One in nine will suffer breast cancer over their lifetime. Progress in prevention and early detection, and the use of chemotherapy after surgery (adjuvant chemotherapy), have achieved significantly increase survival in this disease in the last ten years, but much remains to be done.
New way to turn genes on
Using a gene-editing system originally developed to delete specific genes, MIT researchers have now shown that they can reliably turn on any gene of their choosing in living cells.
Genome sequencing traces MRSA spread in high transmission setting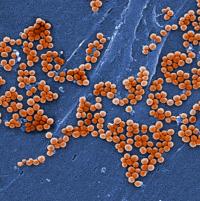 A scanning electron micrograph of methicillin-resistant Staphylococcus aureus (MRSA) magnified 2381x. Methicillin-resistant Staphylococcus aureus (MRSA) is a common cause of hospital-acquired infections, with the largest burden of infections occurring in under-resourced hospitals. While genome sequencing has previously been applied in well-resourced clinical settings to track the spread of MRSA, transmission dynamics in settings with more limited infection control is unknown. In a study published online today in Genome Research, researchers used genome sequencing to understand the spread of MRSA in a resource-limited hospital with high transmission rates.
powered by zFeeder


The top 5 resources


selected by our team


for biological science
news coverage: