| | | |
| --- | --- | --- |
| | | Today's biological science headlines from the sources selected by our team: |
Crocodiles are cleverer than previously thought: Some crocodiles use lures to hunt their prey
Biologists have observed two crocodilian species -- muggers and American alligators -- using twigs and sticks to lure birds, particularly during nest-building time.
Rising ocean acidification leads to anxiety in fish
A new research study combining marine physiology, neuroscience, pharmacology, and behavioral psychology has revealed a surprising outcome from increases of carbon dioxide uptake in the oceans: anxious fish. Scientists have shown for the first time that rising acidity levels increase anxiety in juvenile rockfish, an important commercial species in California.
Multi-dog study points to canine brain's reward center
After capturing the first brain images of two alert, unrestrained dogs last year, researchers have confirmed their methods and results by replicating them in an experiment involving 13 dogs. The research showed that most of the dogs had a positive response in the caudate region of the brain when given a hand signal indicating they would receive a food treat, as compared to a different hand signal for "no treat."
Singapore joins global translational medicine network as Asia-Pacific hub
(SingHealth) SingHealth and Duke-NUS Graduate Medical School, which form Singapore's largest academic healthcare cluster, are joining a new global research network to accelerate the discovery of treatments and cures. They will be signing a memorandum of understanding with the Eureka Institute for Translational Medicine today. As part of the Eureka Institute for Translational Medicine, SingHealth and Duke-NUS join an elite group of academic medical institutes from Europe and North America.
Social ties more important than biology when it comes to teen sleep problems
(American Sociological Association) Medical researchers point to developmental factors, specifically the decline of the sleep-inducing hormone melatonin, as an explanation for why children get less sleep as they become teenagers. But a new study suggests that social ties, including relationships with peers and parents, may be even more responsible for changing sleep patterns among adolescents.
Tune in, turn on, power up
(American Institute of Physics) Human beings don't come with power sockets, but a growing numbers of us have medical implants that run off electricity. To keep our bionic body parts from powering down, a group of Arizona researchers is developing a safe, noninvasive, and efficient means of wireless power transmission through body tissue. The team presents their findings at the 166th meeting of the Acoustical Society of America, held Dec. 2 - 6 in San Francisco, Calif.
CU-Boulder-led team finds first evidence of primates regularly sleeping in caves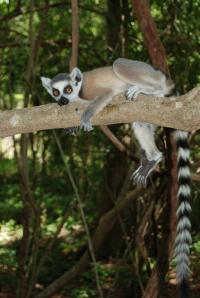 A new study led by CU-Boulder has shown Madagascar's ring-tailed lemurs are the only wild primates in the world that sleep in the same caves on a nightly basis. Scientists have discovered that some ring-tailed lemurs in Madagascar regularly retire to limestone chambers for their nightly snoozes, the first evidence of the consistent, daily use of the same caves and crevices for sleeping among the world's wild primates.
Study identifies protein that helps developing germ cells wipe genes clean of past imprints
A protein called Tet1 is partly responsible for giving primordial germ cells a clean epigenetic slate before developing into sperm and egg cells, according to a new study by researchers at Boston Children's Hospital. This discovery could help provide clues to the cause of some kinds of neonatal growth defects and may also help advance the development of stem cell models of disease.
Beetles that live with ants: A remarkably large and colorful new species from Guyane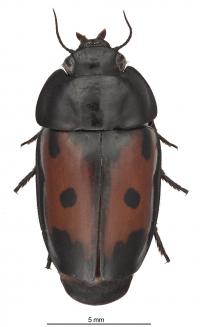 This image shows the beautiful body pattern of the new species G. spectabilis Erwin. Scientists from the Smithsonian Institution describe the Spectacular Guyane False-form beetle, or Guyanemorpha spectabilis, from Guyane (French Guiana). As its name suggests, the newly discovered species stands out among its dull relatives in the Western Hemisphere, with its great size and beautiful coloration. The study was published in the open access journal ZooKeys.
New diagnostic protocols for wasting disease in horses
Equine pituitary pars intermedia dysfunction (PPID) can be detected earlier and more reliably with a new set of guidelines developed by the Equine Endocrinology Group (EEG), a body of leading veterinarians and researchers in the field of equine endocrinology.
Reinventing the high court of organism names
Ever since Carl Linnaeus founded the system for naming biological organisms in the 18th century —called binomial nomenclature, for the two Latin words used to describe species (e.g., Homo sapiens)—there have been causes for controversy among biologists, taxonomists and others who have named 1.5 million living things so far.
Crop-infecting virus uses aphids as carrier
(Phys.org) —University of Cambridge researchers have shown that viruses use aphids as pawns, discouraging the insects from permanently settling on already-infected crops and using this forced migration to spread infection to healthy vegetation.
powered by zFeeder


The top 5 resources


selected by our team


for biological science
news coverage: